Disclosure: this page contains affiliate links to select partners. We receive a commission should you choose to make a purchase after clicking on them.
Are you familiar with the concept of a "scapegoat"?
It originates from one of the books of the Old Testament. All the sins of the people were symbolically laid upon a goat, which was then banished into the wilderness, taking all the blame and bother with it.
In modern terms, a scapegoat is a person who gets blamed for other people's wrongdoings. Usually when they don't deserve it at all.
This often happens in dysfunctional families, especially if one or more family members have emotional or personality disorders.
In fact, it's almost inevitable that a member of the family will end up as a scapegoat if a parent is a narcissist, or has borderline personality disorder.
The person in question – usually the most emotionally stable family member – bears the brunt of their abuser's anger. Everything and anything that goes wrong is inevitably their fault.
Meanwhile, other family members follow the main abuser's lead, and help to sling dirt in that one's direction.
After all, it's a lot easier to blame someone else for things going wrong than to accept responsibility for it.
Some family scapegoats even willingly shoulder this burden in order to spare vulnerable family members.
For example, an elder sibling might accept this ugliness to spare younger siblings from their narcissist parent's wrath.
Similarly, a parent might bow to their spouse's rage in order to keep the peace and protect their children.
It's startling how much punishment a person can subject themselves to for the sake of maintaining familial harmony. It also shouldn't be a surprise to discover just how much damage that can cause them over time.
Important note: if you have ever felt in physical danger around your abuser(s) or have experienced physical abuse at their hands, some of the advice below might be dangerous to follow. Should this be the case, get help either from the police, relevant organizations/authorities, and/or a trained therapist. Never put your own safety at risk.
Speak to an accredited and experienced therapist to help you deal with your family and work through the healing process. You may want to try speaking to one via BetterHelp.com for quality care at its most convenient.
8 Signs That You're the Family Scapegoat
There are usually specific signs and patterns that scapegoating will follow. The ones listed below may seem familiar to you, or you may have experienced variations on the theme.
1. You get blamed for everything that goes wrong.
If a bill wasn't paid on time, then it was because you distracted someone while they were trying to do it. If something goes bad in the fridge, it's because you don't cook enough.
Some narcissist mothers even blame their children for their own natural aging process (i.e. if their offspring hadn't been born, they'd still be in their prime).
2. Your abuser projects their own behaviors onto you.
They might scream at you, and then get upset with you for "raising your voice." Or they'll do something completely self-absorbed, but berate you for being selfish.
The abuser could be cramming fistfuls of mayonnaise into their mouth, but call you a glutton in between swallows.
3. The verbal abuse never stops.
If you dare to sit down for a moment after doing several hours' worth of chores, then you're lazy and useless. You only got a 95% on your test instead of 100%? Then you're stupid too.
4. Your successes and achievements are downplayed.
You may be mocked for achieving something, or your successes may not be acknowledged at all.
The abuser(s) may even purposely undermine or sabotage your success, and then turn it around on you. For example, they might have missed your college graduation ceremony, and then insisted it was your fault for not telling them the right date/time.
5. The abuse is ignored by others.
Other family members may see that you're the one being abused the most, and choose to look away or downplay what's going on.
After all, if you're the one being abused, then they're safe for the time being. Some might even join in during bullying sessions to try to endear themselves to your tormentor.
6. The abuse might go beyond the family.
Your abuser may encourage friends of the family etc. to pick on you as well. They'll tell them lies about you, mock you in front of them, and make it seem absolutely okay for everyone to join in and torment you.
And if you try to defend yourself, then you're obviously just being oversensitive and dramatic.
7. You often play the role of savior.
Regardless of how much you're abused, you're also inevitably the one everyone goes crying to whenever there's a crisis.
This is because you're the most capable, and they know it. So they'll beg for your help as needed, then turn around and treat you like crap again as soon as the crisis has passed.
8. The abuse manifests in your well-being.
Sadly, many people don't even recognize that they're a scapegoat for years. For them, this is the only type of family life they've ever known. They internalize the stress, end up with anxiety, depression and/or eating disorders, and just muddle through as best they can.
Others shut down emotionally so they can handle what they're going through. They numb out and don't feel much of anything. As you can imagine, this ends up causing problems for their own relationship dynamics as they get older.
How To Deal With And Respond To Being The Family Scapegoat? 
Before we even get into this, it's important to remember that you'll experience cruelty and backlash no matter what you do.
So if you want this type of behavior to end, brace yourself for a whole lot of ugly while the process unfolds.
First and foremost, it's important to remember that the family scapegoat is usually the strongest of everyone involved.
Narcissists and other manipulators just toy with those who are easily controlled, because they're easy pickings. They feed off their emotional energy.
Those with strong personalities and characters are seen as threats. As a result, the target of their fiercest cruelty is the one they're afraid of, deep down.
They do all they can to belittle, harass, shame, blame, and cut down the one they see as a threat, so as to maintain their position of power.
If you're coming to realize that you're very much the scapegoat in this dynamic, then congrats!
Yeah, this situation is spectacularly crappy, but it also means that you are much more powerful than you've ever been allowed to believe.
As a result, the best thing you can do to begin with is to absolutely OWN your awesomeness.
This may be difficult if your abuser has really worn down your self-esteem over the years. You'll need to rebuild your own sense of self, and really, truly acknowledge and recognize that you deserve respect, decency, and love as much as anyone else.
Now, what should you do about them?
1. Call them out on their behavior immediately.
This may be a scary idea, especially if you've held back from confronting them about poor behavior in the past. And that's okay. You're stronger and braver than you realize, otherwise you wouldn't be treated so badly.
If they say something to you that's hurtful or offensive, stop what you're doing, and look them in the eye. Hold eye contact for a moment, and then, in a clear, strong voice, say something to the effect of:
"What you just said to me is completely unacceptable. I don't ever want to be spoken to that way again."
And then leave.
Be prepared for serious backlash at that, but hold your ground. If it's your parent you're calling out, you may be labeled as disrespectful. How dare you speak to them that way!
Repeat what you said earlier, and tell them to think about how they spoke to you. That there may be some universe where it's okay to talk to you that way, but it isn't this one.
Leave the room, even leave the house as needed. Give them some time and space to think about it.
If you come back and they lash into you, leave again. Hell, go spend time somewhere else for a few days, if need be. Make it very clear to them that you are completely done with their bullsh*t.
2. Avoid reinforcing their behavior.
When it comes to addressing this kind of behavior, you've probably tried a few times already. Many people who try to call out their abusers for scapegoating end up getting attacked even further. They're often told that they're selfish, or being drama queens.
Some will even be gaslighted: their abusers will turn it around and play the victim card, and turn the rest of the family against the one who's just trying to stand up for themselves!
What you can do is really be aware of your own behaviors.
For example, are you doing anything that makes the people around you think that it's okay to treat you this badly?
Some people who have shouldered the brunt of scapegoating abuse have "checked out" and allowed it to happen over the long term. Usually, this is a lot easier than the inevitable backlash if they stood up for themselves or tried to fight it.
Others have pandered to their abusers awful behavior in an attempt to mitigate it. The thought process behind this is that maybe if they're really nice, and loving, and giving, and attentive, their abusers might be slightly less atrocious toward them.
If that's something you've been doing, stop it immediately.
Don't try to win favor from those who treat you badly. Doing so just reinforces the pattern of awful behavior from them. It gives them the impression that not only are there no negative consequences to their actions, they'll even be treated better for abusing you.
3. Create distance and be clear about the consequences of their actions.
For most people who have been scapegoated, the best option is distance.
If it's your parents who are treating you badly, move out. Just make sure you have somewhere safe to go to.
Or, if your parents are elderly and abusing you, look into a retirement facility for them so they'll stop mistreating you.
Alternatively, if it's your spouse or partner who has been treating you this way, make it very clear to them that unless they start treating you with more respect and decency, then you'll have to end the relationship.
Ultimately, the most important thing here is to end this ugly cycle of abuse.
You've been through enough.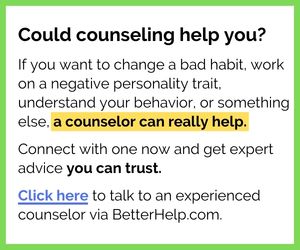 How Do You Heal The Hurt In The Long Run?
This is going to be a long healing process. You can't expect that your abuser(s) will apologize to you, or take any responsibility for their horrible behavior.
If anything, they'll try to turn things around so everyone hates you for daring to hurt their feelings.
If you leave the situation entirely, they'll claim you've abandoned them despite everything they've done for you. They'll lie about you to others, paint a hideous picture of you, and try to turn others against you. So be prepared for that.
In fact, the worst truth about this entire situation can be summed up in one single sentence:
You will never have a healthy relationship with those who scapegoated you.
It's a sad thing to have to acknowledge, but it can also be a huge release. Once you accept this, you'll stop striving to be loved and respected by those around you. You'll realize that they're actually incapable of providing you with the care and support you deserve.
And once you have distanced yourself from their cruelty, you'll be amazed at how much better you'll feel.
It'll feel a bit like mourning a death, and there will still be waves of pain now and then.
You may experience moments of self-doubt and recrimination: those are only to be expected. You've likely spent years being told how awful and selfish you are.
In fact, your inner voice might be incredibly critical. At times, you may honestly believe that you're as horrible as they've tried to make you believe that you are. That's where their power has stemmed from: trying to cut you down as much as possible.
So you need to rebuild yourself. You're the one who has to take all the action with regard to self-care and healing.
How do you do that? Some simple actions you can take include:
– Speak to a professional. If you can, it would be a good idea to seek out a therapist to help you through this. There are more layers to unpack here than a flaky pastry, and they'll likely have some helpful, actionable advice and coping techniques for you. A good place to get professional help is the website BetterHelp.com – here, you'll be able to connect with a therapist via phone, video, or instant message.
– Surround yourself with people who treat you with kindness, love, and respect. Nurture the friendships that mean the most to you. Strengthen and deepen them slowly over time so that you have a solid foundation of genuine care and appreciation to build upon.
– Set healthy boundaries with others. If you recognize any unhealthy behaviors or dynamics in other relationships, now is the time to address them by setting boundaries on what you will and will not tolerate.
– Create a vision board. If you react well to positive visual reinforcement, a vision board can provide a constant reminder of why you are doing this. Cover it with positive phrases, photos, and images that inspire you.
Read this article for more detailed information: 8 Emotional Self-Care Strategies: Take Care Of Yourself Emotionally
Know that you are seen, and heard, and worthy.
One of the main issues most family scapegoats have faced is not having been seen, heard, or believed.
Many of them have tried (often several times) to let others know what's going on at home in an attempt to get help. But nobody listened.
Narcissistic parents in particular often have everyone outside the household fooled. They turn on the charm whenever they're in other people's presence, so they're loved and adored by their entire social circle.
As you can imagine, people who think they "know" these people wouldn't believe a child or spouse who tried to naysay them.
If the narcissist is approached by anyone about the issues that were raised, they'd either play victim, or dispel any of that by claiming the other is seeking attention. And then there would be absolute hell to pay back home.
This can lead to many different types of emotional damage in the long run. For example, in addition to the potential eating disorders and/or emotional numbness mentioned earlier, people who have been scapegoated often have a great deal of trouble trusting other people.
They've been raised with the idea that those closest to them will inevitably betray their trust.
In addition, they might not even recognize their own emotions, because they were constantly told the opposite of what they were thinking or feeling.
Again, we strongly recommend unpacking these and other issues with a mental health professional because the healing of such wounds goes well beyond the scope of any internet article. Here's that link again to find a counselor to work with.
Relinquish the burden of love toward your abusive family member(s).
Remember that most people have been programmed to think they have to love their family members unconditionally. After all, that's what "family" is all about, right? Love and support?
Well, no.
You don't "owe" anyone love just because they share DNA with you. If you need to cut ties with your abusers in order to heal, then do so. That's absolutely okay, and even encouraged.
If, however, you still feel as though they deserve your love because of the bond you share, however unhealthy it may be, that's okay too. Your emotions are your own, and you get to dictate how you want to feel or not feel. Same goes for whether you choose to express those feelings or not.
In a case where you still feel love, but don't want to associate with your abusers, it's both healthy and encouraged to love them from afar. You can still send them good energy, and hope for their well-being and happiness, while maintaining distance to protect yourself.
Again, if you believe that your physical safety could be put at risk by confronting an abusive family member, don't go it alone. Seek support and follow the advice of the professionals.
Still not sure how to deal with being the family scapegoat or how to heal emotionally? Speak to a therapist today who can walk you through the process. Simply connect with one of the experienced therapists on BetterHelp.com.
Too many people try to muddle through and do their best to overcome issues that they never really get to grips with. If it's at all possible in your circumstances, therapy is 100% the best way forward.
You've already taken the first step just by searching for and reading this article. The worst thing you can do right now is nothing. The best thing is to speak to a therapist. The next best thing is to implement everything you've learned in this article by yourself. The choice is yours.
You may also like: