Consult a life coach to help you successfully start a new chapter in your life. Simply click here to find one now.
Sometimes, life just happens to us. We don't want change, but it happens whether or not we give our consent.
Maybe you've experienced the sudden and unexpected loss of a loved one and now face a new chapter of life without them.
Perhaps you've lost your job and are forced to start a new phase of your career, or even a whole new career from scratch.
Whatever the case, your old way of life has ended and you must start a new journey. You didn't ask for it, but here you are.
At other times, we crave a different path; a new way of doing things. We sense change in the air and we want to roll with it.
Maybe you are sick and tired of what has become your normal. It's not bad; it might even be a pretty good life. But it bores you to tears. You want to flip the page on life and move on already.
But you need some practical advice on how to do that.
You're in luck. That's what this article will cover.
But before you do anything else…
Stop. Breathe. Feel.
Are you overwhelmed? Afraid? Excited? Panicky?
All the above?
Are your emotions all over the place? One minute you feel empowered, excited at the possibilities that lie ahead, ready to seize the day. You're a warrior, you've got this!
The next, you're sure you've lost your mind. This certainly must be what a mid-life (or quarter-life) crisis is like. What other reason could there be for you to want to abandon the old and comfortable for the new and unfamiliar? To fix what isn't broken.
You might be one of the people that life is happening to. You had no complaints at all about your life. In fact, you were pretty happy. But life happened suddenly and took the wind right out of you.
Now, you're struggling to adjust to the new when the old was fine, perfect even. You want to rage against the world, but you know it won't do anything except make you hoarse.
You might have considered giving up, but you have responsibilities. People are counting on you. How you're going to make it, you have absolutely no clue. The thought of starting a new chapter overwhelms you to the point where panic is clawing at the back of your throat.
Stop. Breathe. Feel.
Calm down. Slow down your thoughts. Relax.
The only constant in life is change. It was bound to come one day or the other. That it held off for as long as it did was just a stroke of luck. There's nothing left to do but to move on.
Once you have gotten your head around the reality of the situation, read on.
1. Let go of the old. 
The start of a new chapter means closing the page on what felt familiar, safe, and comfortable.
In life, you can't go back and re-live previous chapters like you would re-read a book. The only movement you can make is forward.
To unlock the full potential of the next phase of your life, you need to let go of the past. You cannot focus on moving forward and creating a new story if your hands are still tightly clasped around the old.
Moving on doesn't have to be complicated. It can be as simple as taking one step at a time or one day at a time. Don't focus on the past or the future. Just focus on today, right now.
2. Reflect on who you want to be.
One benefit of starting a new chapter is the freedom to be whoever you want to be.
Before you lies a chapter full of empty pages where you can write whatever you want. The power to develop yourself, design your environment, choose your supporting characters is all within your grasp.
What kind of person do you want to be? What kind of life do you want to live? The choice is up to you. You have the freedom to be whoever you want to be, the power to evolve into the butterfly you've always dreamt of being.
Give yourself some time to think this through. If you're opening a new chapter as a result of the death of a loved one, don't rush into making any drastic decisions while you're still grieving. This is not the time to make sweeping changes. However, don't remain glued to the same spot as a memorial in their memory. They wouldn't want that for you.
This step will probably require some time and space from past relationships and routines as well. You might need to take a step back from some relationships because their tenacious hold on the past won't let you move forward.
3. Decide what you want to do.
This next step is not as overwhelming as it sounds. It isn't about determining what you want to do for the rest of your life. Because let's be real, most of us still have no clue what we want to do for the rest of our lives and we're in our 30s, 40s, or even 50s.
It's about figuring out what you're interested in trying or doing right now. What have you always wanted to do but never did? Is there a career you're curious to explore or a trip you'd love to take?
Are you the type of person who has always done what was expected? You've made all the right decisions, followed all the rules, never deviated from what was expected for a minute. But you've suddenly realized that you're not satisfied with the life that you're living. You've had a re-awakening and want to embrace all (well, some) of the opportunities life offers. You're ready to flip the page on the old and leap into the new.
Before you run full steam ahead into a mid-life crisis, make a list of what you want to experience, where you want to go, what you want to do. Write everything, big or small, that you want to do in this new phase of your life.
Remember, you are the author of your life. You can do whatever your heart desires.
4. Try new things.
You know that list of things you've always wanted to try but just never got around to? Bring it out and dust it off. Or make a whole new list. The start of a new journey is the perfect time to cross a few things off.
That marathon you've always wanted to run… buy a pair of running shoes and sign up with your local running club. You'll cross two things off your bucket list – trying new things AND making new friends.
Have you been putting off learning a new language? Well, sign up for a class at your neighborhood community college or download a language learning app. To make it extra fun, go to a restaurant that serves the cuisine of the language you're trying to learn. People are usually pretty friendly when you are attempting to learn about their culture, so don't be shy – try a few words or sentences out on them.
Do you want to change careers? Figure out what skills you'll need to transition and take a course in the areas where you're lacking. Find a mentor who can advise you on making the leap. Join online communities in your new field and learn the lingo, while expanding your professional network.
If there's anything you've ever wanted to try, now is the right time to try it. Your new chapter is still unwritten. Enjoy the freedom to write whatever you want on the blank pages.
5. Go back to school.
Take a class on something, anything at all. What are you interested in or what would you like to know more about? Is it salsa dancing? Or perhaps a coding language? Could it be you've always wanted to learn how to be a makeup artist? Find out if there's a class on it nearby. It doesn't matter how silly it is, go ahead and learn about it.
While online learning is convenient, there's something about that one-on-one interaction with fellow students and your teachers that spurs you on. You're building new friendships, increasing your network, opening yourself up to new information and new experiences – all the tools your new journey requires.
Don't talk yourself out of it because you think you're too old. If you're interested in it, that's all that matters. Knowledge is never lost and you're never too old to learn something new.
6. Take up a hobby.
What hobby have you been dying to try but haven't? Maybe it doesn't fit in with your lifestyle or the person you've projected yourself as being. It's too infantile, you think (or you've been told). Perhaps you've ruled it out because it's too expensive and money is tight. You have so much to do and there's just not enough time in the day for it.
But if you could, what would you love to spend hours doing?
Is it knitting? Or painting? Does nothing make you happier than a good book and a free afternoon to read it? Perhaps you've always wanted to restore classic cars or build model trains sets?
Hobbies help to relieve stress and focus your mind on an activity that you love while taking your mind off things that cause you stress. You are engaged in something that you find enjoyable, leaving you feeling happier, more relaxed, and better equipped to handle your life's transition.
Studies have shown that people who take part in leisure activities function better psychologically and physically. They showed greater life satisfaction and engagement and even had fewer signs of depression and lower blood pressure.
Your hobby is not just a waste of time. It's helping you refuel and could prolong your life.
7. Adopt a "can do" attitude.
As you step into the unfamiliar, there's one critical tool that you need to be successful. Without this tool, you're doomed to fail from the start. This tool holds the key to a wonderful life experience, one that surpasses your wildest expectations.
What is this tool? A "can do" attitude. It's as simple as that.
Have you ever noticed how confident successful people are? Their self-confidence is off the charts. They have confidence in their abilities. Some believe that there is nothing impossible for them. If you're not careful, you'll mistake their confidence for arrogance.
What you need to be successful in the next chapter of your life is rock-solid belief that you can do it. You need to have faith in yourself. Faith that you'll be okay if you succeed, faith that you have the skills to succeed, but also faith that you'll be okay if you fail.
You need to believe that what you aspire to do is possible and you have what it takes to do it.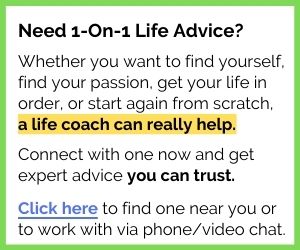 8. Make a vision board.
Yes, yes, vision boards have been done to death. Especially at the beginning of a new year. Honestly, it's enough to make one hate all things arts and crafts.
The only problem is… they actually work. They are physical representations of your hopes and dreams.
A vision board is a picture of what you are dreaming of inside your head. It's your dream house or a picture of that exotic location you've always wanted to visit or that company you want to work for.
You're taking the picture from within you and focusing your eyes on its physical manifestation and the emotions surrounding accomplishing that feat.
The physical act of sifting through magazines and searching for pictures that represent your new journey or destination is enough to show you that your goals are possible.
Couple that with putting the board where you can see it every day so that you are forced to come face to face with the reality of your dreams and goals.
Now if that doesn't stoke your fires, I don't know what will.
Make a vision board of what your new chapter will look like. Don't get caught up in the nitty-gritty details. Allow yourself to get lost in a daydream, just like you used to when you were a kid. Get a board and put pictures on it that represent your new phase.
Take time every day to look at your board and feel the emotions you'd associate with accomplishing everything you put on it. If you put a happy couple on the board, imagine yourself in a healthy relationship, one that makes you as happy as the beaming couple in the picture. If you put a confident business person running their company on your board, imagine yourself managing your business with the same level of confidence and success the person in the picture is portraying.
Eventually, you'll either tire of just dreaming about the things on the board and go after them, or you'll find that doors and opportunities seemingly fall into your lap, allowing you to pursue your goals.
9. Form new habits.
The habits that got you to where you are today won't be able to get you to where you're going in the new chapter. A new you requires a new way of doing things. You need some new habits.
Don't make sweeping changes. If years of failed New Year's resolutions have taught us anything, it's that this tactic rarely works. So only make one or two small changes at a time.
For example, if you are used to sleeping in until 10 AM and want to wake up by 6 AM to get a head start on your day, start by getting out of bed at 9:30 AM and work your way (slowly) toward your goal of 6 AM.
You're more likely to stick to your new habits if you ease into them.
It's important you know your "why." Why are you forming this new habit? Why is it important to you or your goals? What do you stand to gain from this new habit?
Keep it front and center (on a vision board, perhaps?) so you are better able to stick to it, because the payoff is worth the temporary discomfort.
Another tip is to make sure you do it every day.  A study on how people form habits revealed it takes anywhere from 18 to 254 days, with the median at 66 days! A day missed here and there will just make establishing a new habit that much longer and more difficult.
10. Purge yourself of toxic people.
A new chapter requires a new you with new skills and, often, a new support system.
It's never easy to purge your life of toxic relationships, particularly when dealing with narcissists or other manipulative people.
But it can be even more difficult if the people you need to distance yourself from aren't toxic in the general sense.   
The relationships you may need to reconsider are the ones that are toxic to your new way of life. You want to move on and grow, but they like the old you and way of doing things. These are people who genuinely care for and about you. During low moments of your life, they were there for you. They know who you were and love that person dearly.
But they have no desire to get to know the new you and want no part in this new journey you're on. At every opportunity, they're reminding you of how great things were or how you used to be, and rejecting any attempt at change.
As painful as it may be, extricating yourself from them will be a critical part of the success of this chapter.
This will be a hard task, made even more difficult because they're not bad people. They're just stuck in the past.
11. Be open to learning.
A new chapter requires a lot of learning. You're learning new habits and skills that you will need for your new experiences.
Make learning a part of your daily life. Give yourself room to make mistakes, while ensuring that you learn from them.
Think back to when you were learning how to ride a bicycle. You probably fell and scraped your elbows and knees quite a bit. But the excitement of riding your bike kept you committed to learning. So every time you crashed and hurt yourself, you got back up to try all over again, only this time with a better idea of how to balance, pedal, and steer.
Adopt the resilience of a child to the new journey you're embarking on. Let the excitement of your new chapter keep you committed to learning and moving forward. Use the mistakes you make along the way as learning aides to do better next time.
Everyone who has ever ridden a bike has fallen a few times. The same rule applies to making a mistake – everyone does it. But not everyone learns from their mistakes.
Be open to learning new skills, learning from your mistakes, learning in general.
12. Embrace the fear.
Don't be fooled, fear will always be there. The bravest people aren't courageous because they have no fear. They are courageous because they don't let fear stop them.
There's always going to be something to be afraid of. Fear of failure, of success, missing out, of making a mistake. The list goes on and on. There will not be a time when you are completely without fear and ready for the next step in your journey.
Stepping out of your comfort zone requires you to be comfortable moving forward in spite of your fear. It's your comfort zone because it's where you're comfortable. You are attempting to leave where you are comfortable in the hopes of something better. That's a big deal.
Embrace the fear causing your knees to knock together, or your heart to pound with dread. Embrace it, pick it up, and get on with it.
13. Embrace change.
Nothing stays the same forever. Sometimes that's a good thing; other times it's bad. Either way, the only way to make change easier to handle is to embrace it.
Live in the moment, understanding that things will change. That doesn't mean living in fear, but living in the awareness that you may not get to experience this again. So drink it in.
Ask yourself if this is how you want to live your life or spend your time. If it is, then be present. If it is not, change what you don't like.
Develop skills that are marketable and transferrable to any industry so your career will be adaptable to change as well. If you're not sure what type of skills those are, do some research. Don't wait for change to come like a freight train. Be proactive. Prepare for it.
14. Put a plan in place.
Don't leap without counting the cost. The only way you can do this is through proper research and putting a plan in place to mitigate any risks.
If you've followed the above steps, you have already done more than half the research. You have a clear-ish picture of what you want to do and who you want to be.
Now write out a plan that will take you there. Although details are very important here, don't get stuck in over-planning. You can't plan out everything. The unexpected will still show up, regardless.
The expected you can take care of with detailed plans. For example, if you want to travel to France, plan out the trip. Call up travel agents, get a cost estimate. Do you have enough money for the trip? If you don't, how much can you save up? Find out who your kids can stay with while you're away or if you can take them along with you. Check if your job will give you time off.  Which sights are you going to visit?
In order to bring your goals into clearer focus, you must have a plan in place. It brings a thought, an idea, a concept into stark reality. You're no longer dreaming about taking a trip to France, you're taking steps toward making that dream come true.
15. Enjoy the process.
The whole point of this journey is for you to be happy and to give yourself an opportunity to enjoy life. There is no point in upending everything, changing your habits, ending relationships, and pursuing new experiences if you hate every minute.
Yes, some parts will suck, but it shouldn't all suck. If the transition seems like an enormous chore, re-examine what you're doing and why. Are you doing it for the wrong reasons? Have you rushed a critical step, such as letting go?
A nervous excitement should fill you as you get out of your comfort zone, learn new skills, start new relationships, etc. Nervous because everything is still unfamiliar. Excitement because your life is filled with fresh air.
Things are changing quickly. But it shouldn't be so fast that you don't enjoy the wind of change.
16. Be patient.
You're changing up your status quo. Your old way of life is under attack. Everything within you and even around you is going to scream against it. It'll be a painful change to make. But you're equipped to do it.
You'll have some good days, you'll have some bad days. Some days you'll be happy and feel on top of the world. Other days, you'll be certain you're having some sort of mid-life crisis, and you won't even remember why you're doing what you're doing.
Be patient. Allow yourself to take it one day at a time. Give yourself room to be a fallible human.
Don't be afraid to take teeny tiny baby steps to ease the discomfort. Break every step or goal down into manageable, bite-sized mini-steps or mini-goals. A step forward is still movement forward.
Remember: you're not in a race against anyone. Just ensure that you consistently move toward your new reality.
17. Take time for self-care.
With changes happening all around you, it's easy to get overwhelmed. Whether you realize it, you're under immense pressure. Life is changing, you're changing, nothing is staying the same. It's enough to make your blood pressure rise.
Now, more than ever, you need to take time out for self-care. It needs to be part of your new routine. Taking time out of your schedule to decompress must become a priority in this new phase.
The truth of the matter is, if this transition becomes too difficult for you to handle, the likelihood is you'll run back to what is familiar.
Make this process of change easier for yourself by taking regular time out for your mental and emotional well-being.
Starting a new chapter in life can be as exciting as you want it to be. This next phase doesn't have to be bad just because it's unfamiliar. It could be your greatest opportunity for growth and the life you want to live. But that won't happen by chance. Decide and go after what you want.
As you look over the empty pages of your new chapter, remember you are the author of your life. You determine what to write on those pages.
Still need some specific guidance on beginning this new chapter in life? Speak to a life coach today who can walk you through the change step by step. Simply click here to connect with one.
You may also like: